I felt as though we've been neglecting our Sugar Delights lately, so I thought I'd dedicate this review to all you lovely ladies who want a bag that is just as cute and sweet as they are! Say hello to the bright blue lizard shoulder bag from Riki Rosetta.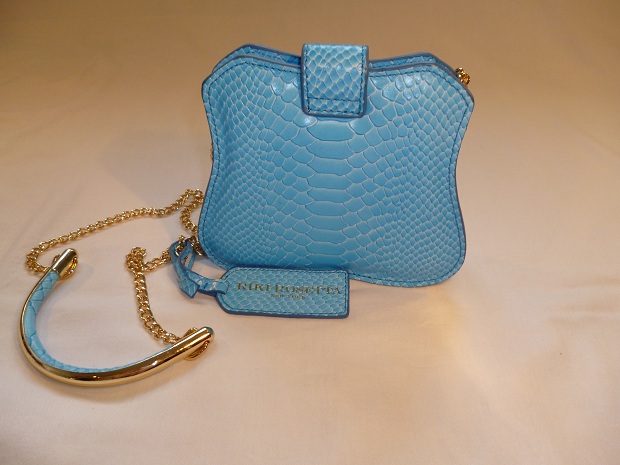 We love it because…
This is a bag for those days where you want to jump out of your dark corner and shout "everyone look at me!" It's colourful, it's shiny and it brightens up your day. We've had this little bag in the BagServant office for a while now and everytime we look at it, it brings a little smile to our faces. Maybe it's the surreal shape or the raised surface of the mock croc texture which looks as though it's about to burst into life. Don't worry, it doesn't bite. What it does do is fit very nicely around your shoulder with an ingenious fitted strap with a blue mock croc finish. Although the gold chain is a nice touch, it can get a little twisted and tangled, so don't just throw it on the sofa at the end of the day.
It's worth pointing out, if you're not a fan of the shoulder handle design, that the pink version of the bag comes with a soft leather handle. Other than that it is practically the same in every way… except it's pink!
It can fit…
Yes, it is very small. You can't fit your life into it, unless you consider your phone to be your life, because that's just about all it will carry. I tried to squeeze my keys in it and had to take apart all my key chains for it to fit and close. This is a statement bag for nights out when all your holding is this and a glass of wine, so really I would recommend anyone who lives a minimalist lifestyle to purchase this bag.
Interior..
Underneath the golden clasp is a lavender satin interior and the signiture Riki Rosetta tag. The shoulder strap is the perfect length for you unlock the bag and quickly whip out your phone without fussing about.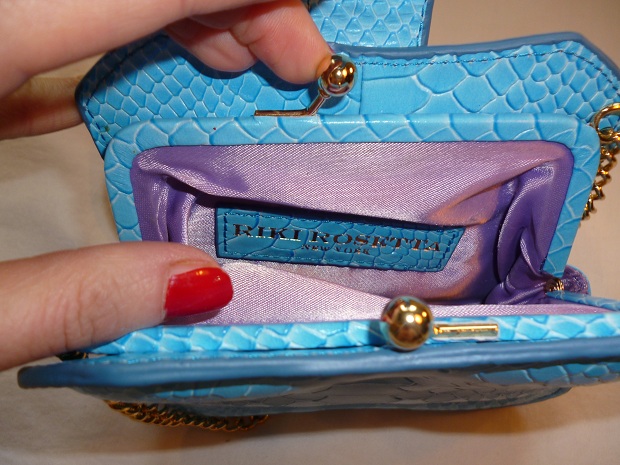 Perfect for…
As I said before, this review was written especially for our Sugar Delights because this is the kind of bag she would see in the shop window and give out a little squeak of joy. And why not? It's a cute little item could find its way to any bag lover's heart. Without sounding cheesy, it's happiness that's been downsized to be slung over your shoulder. If you need a little pick me up, this is your retail therapy, literally!
Carried by…
The cast of Gossip Girl
Shop the Riki Rosetta blue lizard bag
Shop the Riki Rosetta blue lizard bag in different colours
Shop Riki Rosetta
Comments
comments