Oooh here at BagServant we just love a sale! Especially when the sale involves HUGE reductions on designer brands such as DKNY, Marc Jacobs, Tory Burch and many many more.
Check out our personal favourite designer handbags now under £500:
Anya Hindmarch Valorie Glitter Clutch £175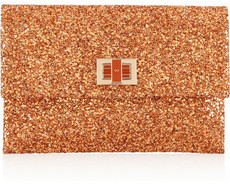 These snazzy clutches can simply never go out of fashion. We loved them at full price (£350) and now love them even more with 50% off! Ideal for any party, wedding or special event you may have coming up in 2015 – you NEED to get your hands on this gorgeous clutch whilst stocks last.
Marc Jacobs Little Stam Quilted Leather Shoulder Bag from £355.50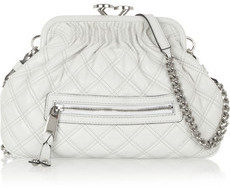 Marc Jacobs is a timeless brand that never fails to impress us with these chic designs. And this quilted leather shoulder bag is no exception. With 55% off, this bag can take you from day to night all year round and can be dressed up or down to suit your mood.
Lanvin 'Help' Embellished Satin £417.50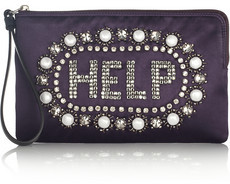 Lanvin just take things to another level – don't they? You know you've made it if your porting a Lanvin clutch on your arm to that special occasion. But we will let you in on a little secret – this gorgeous satin bag is half price! So you can feel like an A-lister without the need to remortgage the house. Go on, treat yourself.
Joanna Maxham Element Crossbody Mini Satchel £239

If you are looking for a more practical every day bag this tall and delicately structured shoulder bag  is perfect for storing everyday necessities such as a mobile, wallet or keys. The Element crossbody satchel is a classic vintage bag with a sleek modern luggage lock and delicately shaped handle, complimenting a feminine and sophisticated look.
Shop all sale bags under £500 now.
Comments
comments