As we scroll through hundreds of bags everyday, it never seizes to amaze us how many similar styles are out there.
Victoria Beckham v Whistles
We adore Victoria Beckham handbags and believe her bags just ooze style, sophistication and luxury. This Victoria Beckham Canvas tote, for example, is ultra practical and right on trend with the colour-blocking/monochrome SS13 trends. However, at £980, this large tote won't be in everyones budget. Therefore, this fab Whistles Wooster bag is a great alternative for those wanting t0 get the VB look for less!
Shop Victoria Beckham Canvas tote
Fendi v Dune
There's no denying that when it comes to handbag style, Fendi are the kings of the castle. Fendi have long since ruled the handbag market and there long list of famous IT bags are easily recognisable and the ultimate statement of luxury. The Fendi 2jours tote is one of their latest creations and is a firm favourite amongst Hollywood A-listers and fashion gurus. Nothing really compares to the Fendi 2jours tote, but again, starting at around £1200 and rising up to almost £3000, we need an everyday alternative. This Dune Enamel Frame Detail Bag has a very similar silhouette to the 2jours tote, same style of handles and the iconic label hanging from the front. And at just £69 you really can get the Fendi look for less!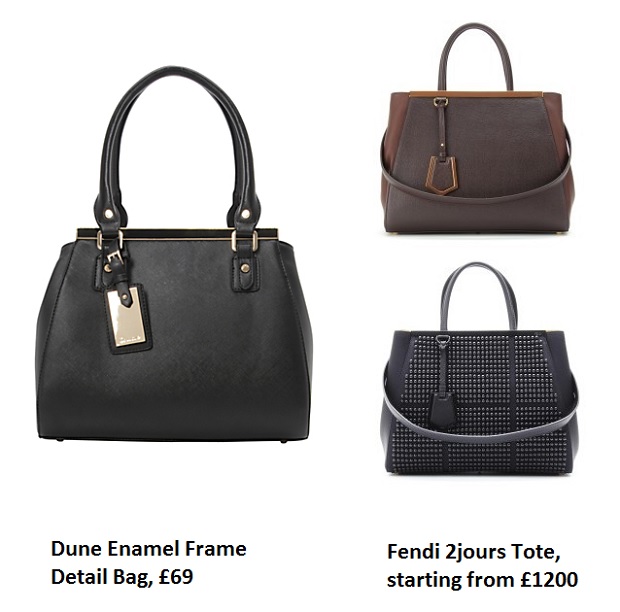 Shop Dune Enamel Frame Detail Bag 
Check our other #getthelook posts
Comments
comments