With its elegant and polished gold padlock and key, you really can unlock the potential of this leather tote from Michael Kors. The Michael Kors Hamilton Tote can boost your look and give it a high society edge.
Handbag Experience 
This bag has the kind of style that transcends fashion trends and encourages that universal desire that every woman really wants: to look posh and expensive. This isn't just because of the gold features that come with it, although they do add a touch of high class glamour, it's because of the structured luggage leather and elegant way it doesn't draw too much attention to itself but somehow manages be an item of envy to onlookers. Although if you did want to draw a little more attention to it, this bags comes in a variety of different colours. The other great news about this bag is that it can be carried as a traditional tote or also as a shoulder bag. This gives you many options when you are out and about.
When and where is it perfect for?
The large Hamilton tote is a bag that could fit something like a laptop, an iPad, notebooks or any other items you carry around with you, and you could quite easily organise your possessions with the different compartments. To give you an idea of just how big this bag is, I managed to fit my old chunky Dell laptop in it, which I usually have to carry around in a ruck sack. Watch out if you go for the small Hamilton tote to fit tech gadgets like a laptop and an iPad. Because of this, the Michael Kors Hamilton tote is the ideal office handbag – great for Boardroom Perfectionists and Big Bag Lovers. However, many of our bag personalities would adore having this bag in their collection. Miss Practical would love this bag for its convertible styles with the two handles, which can change from a casual slouchy look to a more professional style. The Confident Classique would find this bag a smart investment for its minimalist style that adds high class glamour that she could take with her from day to night.
Interior
The purpose of the gold padlock is to loosen the straps of the bag to give you better access to the inside, which has many different compartments including one specifically for your mobile phone, although the leather is a little stiff at first. There are five compartments in total and a handy clip for your purse to prevent it getting lost. This bag has a smaller cousin, the Hamilton mini messenger, which comes with all the same features but if you're looking for a bag that could fit a fair portion of your life in then this would be a smart investment.
Material
The great thing about the Michael Kors collection of Hamilton totes is that they come in a variety of materials that changes with the seasons. From Bordeaux stud-trim leather, woven leather, burnished leather to calf hair – there is a material to suit everyone. Our personal favourite this season is the new Saffiano leather. Soft, durable, slick and clean we can easily see why it is this season's must-have material for bags.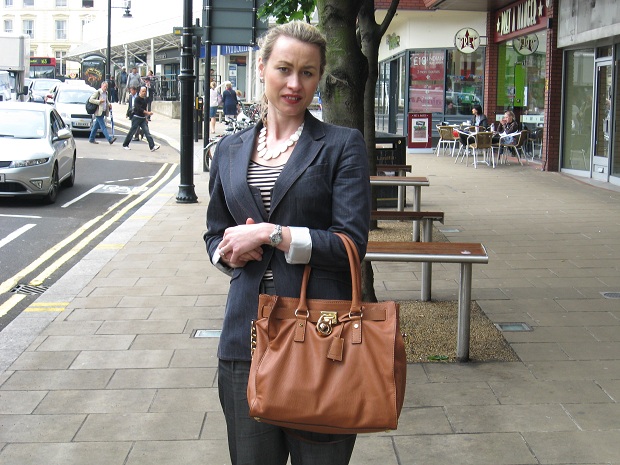 Best colour to pick
The Michael Kors Hamilton totes are available in such a wide selection of colours and patterns it is almost impossible to pick a favourite. Black, white, grey and beige are all perfect for your everyday office handbag. But, if you like a bit of colour in your life to add some sunshine to that rainy day try the purple. orange, pink or leopard print.
BagServant's thoughts
Many Hollywood A-listers have been spotted with the Michael Kors Hamilton tote including, Emily Blunt, Beyonce Knowles and Jennifer Lopez. And if it's good enough for style queen J-Lo it's certainly good enough for us! The polished and professional look of this bag combined with the trendy colours, materials and patterns make it the PERFECT handbag for any woman. Carrying a tote like this you just ooze style, sophistication and class. We just can not wait to get our hands on the new Michael Kors Saffiano Hamilton Tote!
Ratings: Stars 1-5 (5 being the best)
Value for money 5
Practicality 5
Wow Factor 5
BagServant love 5
Shop the Michael Kors Hamilton Large Tote Tan.
Shop the Michael Kors Hamilton Large Tote in different colours.
Comments
comments