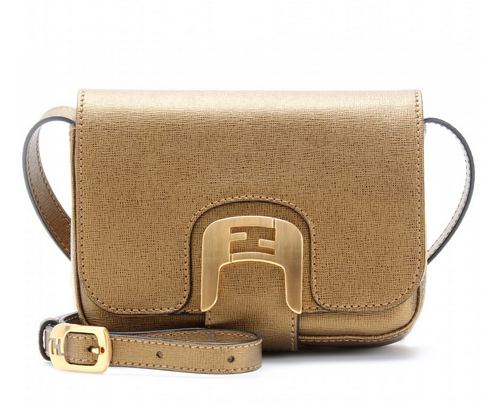 Messenger bags are a proven favourite amongst the public. Practical, stylish and compact, it's easy to see why. And Fendi's latest offering, the Chameleon Messenger can only be described as a core classic for any handbag collection.
How big are they?
With an inside slip pocket, adjustable shoulder strap  and enough room to fit all your daily essentials, it certainly gets our vote for practicality. Granted it won't fit your laptop or iPad but it is the perfect day to night bag that you can use in and out of the office.
What colours are available? 
The Fendi Chameleon Messenger bag is called a Chameleon for a reason. It is incredibly versatile and is the ultimate statement of luxury. Available in a range of colours from bronze (above) to red and blue (below) and also in different sizes, this messenger bag will suit everyone's needs and preferences.
What are they made of? 
Lined with suede, this bag is hard-wearing on the outside and super elegant on the inside. Additionally, it is made from soft goat leather – a welcome change from the usual leathers used by designers. And, as you know we are already HUGE fans of Fendi.
BagServant's Style Tip
It's not just BagServant that loves this bag, the stylish Blake Lively was spotted carrying the Fendi Chameleon Messenger bag on the set of Gossip Girl just a couple of months ago. Other A-listers such as Jessica Biel, Sarah Jessica Parker and Vanessa Hudgens are also reported to be huge fans of the Italian super brand's latest conquest. So, to follow Blake's effortlessly chic look, team this bag with a casual summer dress, heeled nude sandals and a chunky bangle  for the perfect everyday look that will take you from day to night.
Alternatively team with cropped trousers and a casual T for a more comfortable work outfit.
Shop Fendi Chameleon Mini Messenger Bag
Comments
comments