During our visit to Selfridges, we stopped at the Fendi corner. I have always loved Fendi handbags. Fendi was my designer handbag which I bribed my husband into buying me on our honeymoon trip. Even if I don't buy Fendi, I like to watch what designs they present.  Although there are other handbags which are on my wish list (or at least higher up), Fendi always impresses me. They did not let me down with their new AW12 bag – 2Jours.
This bag comes in different sizes and colours. Although this black may be the biggest seller, the bag in white cream is amazing! The great thing about this bag is that the side leather is different compared to the main frame. The front and the back (the main frame of the bag) is the same leather that Prada uses on their bags, now also introduced by Michael Kors for their Hamilton Tote.  This leather does not require much for you to take care of it.
My only concern was the opening. Although it has a little clip, the bag is still heaven for pocket thieves. If you are taking public transport, I would rethink it twice or you just need to be more careful. There is an inside pocket in the bag where you can store your wallet and other essentials like your phone, ipod etc. Or you can be like me when I bought a similar bag, I bought a nice scarf to cover the top.
The most amazing surprise I've saved for the end. Fendi decided to customise the design to their shoppers and allowed customers to engrave their initials on the little leaf. You can get this done at Selfridges while you are having a cup of coffee.
On the Fendi website you can see all the amazing colours and combinations. Selfridges only has 3 at the moment, however they are planning to stock more.  If you are a Confident Classique  like me, then you will love this bag. Not just that, all others will find their favourite. Big Bag Lovers will love the larger size,  a true Glamourpuss will go for the gold one and Miss Practical woud love the longer shoulder strap to carry on it on her shoulder.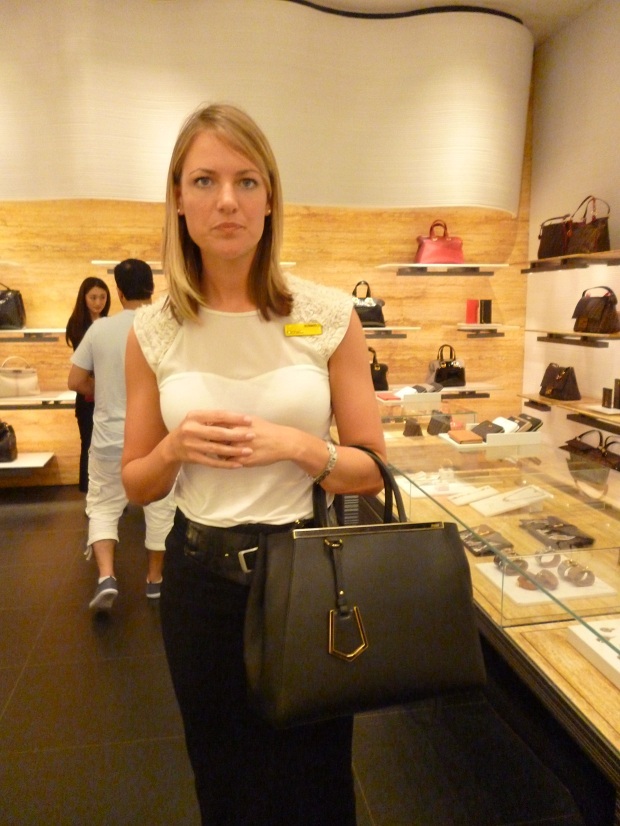 In my opinion – the Fendi 2 Jours can be summarised in in 3 words, stylish, simple and sexy.
Shop 2JOURS MIXED-MEDIA LEATHER TOTE
Shop Fendi bags and accessories
Read more about Fendi 2Jours Totes
Everyone may know that Fendi's Baguette bags are the celebrating icons for Fendi, however, although I own one of the Baguette's, my second favourite (after 2Jours) is the Fendi Leather Tote which also comes in a variety of colours. A great bag for Big Bag Lovers, Confident Classique, Boadroom Perfectionist and Glamourpusses. I also love the bag inside which has lovely Fendi's logo all over the lining and it has a middle pocket inside. You can be very organised (Michelle Mone would love this one). Also, the little clip on the handle is amazing with the Fendi logo engraving.
Fendi Silvana Bag is the Elizabeth Taylor's icon bag. I have not decided if I like or dislike this bag. I would not invest over £1000 in this bag, at least I know this.  Not that I don't like it and it is actually a great style for Confident Classique,  simple design and it comes in a variety of colours.  It can be because for me, I am not sure if the bag would be an evening bag or my daily bag or I may not have the right wardrobe clothes choices to match this style. However, the lining inside is so precised and nicely done with a big logo stick at the bag. The bag has a long strap, therefore you can carry the bag across your shoulder.
Overall, I love Fendi. I would recommend that every woman owns at least one piece in her lifetime. It is a such an icon brand which will stay with us forever. Fendi reminds me of Hermes; the great news is that it is much more affordable.
Shop Fendi Handbags at BagServant.
Comments
comments