I was recently interviewed by the extremely lovely Isra from Latte-Mama and asked what my must-have lust-have is for SS12. I certainly didn't have to think too hard, as it's the simply stunning, utterly chic oversized Orange Lizard clutch by New York designer Riki Rosetta.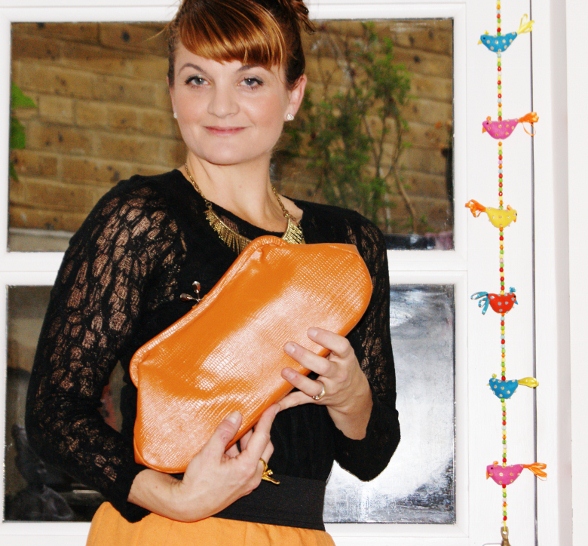 Clutch experience
Purchasing this clutch was a breeze, and it arrived from the USA beautifully boxed including a dust cover (I adore a good dust cover). Now, I love this clutch, and so do a lot of other people. I've carried this out with me three times and I get so many lovely compliments about it, and my good friend in Australia is even ordering herself the exact same clutch.
How to wear it
This is a stunning statement piece and looks sensational against a light-weight fabric cobalt blue dress, or a hot pink skirt with a shot of bright red. I wore this clutch with my bright orange bubble style skirt with black lace skinny fit top with gold accessories – an on-trend gold cuff is hot right now. Killer heels are also a must.

The right occasion
Summer is here. From a gorgeous cocktail evening with the girls, a wedding on the Riviera against the dazzling Med, side-line at a Polo match with Champagne on tap, or dinner with the Mr set against candlelight. This is the ideal oversized clutch that carries all the essentials, without it looking awkward and bulky. This clutch carries my mini digital camera, iPhone, travel card, business cards, essential SPF eye-cream, lipgloss, and a snack. Now, you know what's in my clutch.
The interior
The interior is finished to a high standard with a soft, pale organe lining. There are no inside pockets, but this is okay, because it opens out beautifully so that you can access everything inside with ease.
Wear and tear
From the elegant chunky clasp opening to the soft interior lining and the beautiful high quality leather finish, this clutch is every bit feminine with durability. My Mojito spilt on the clutch while I sat chatting to my friend, and it wiped completely clean without any residue. The clasp is firm so there is no fear of it spilling open when out and about.
Our thoughts
I am so in love with this new wardrobe item that my friend in Australia is now buying one. It ticks all the classy fashion boxes – it looks great, it is easy to carry and accessorise with, it fits all my essentials, and looks good both day and night. It's not necessary to match your shoes with your bag, so this colour looks great with black or silver heels.
Comments
comments