If ever there was a handbag that utterly summed up understated chic, then it was the Michael Kors Jet Set Medium Travel Tote. A perfect statement of style, sophistication and togetherness, this tote is as elegant as they come.  With its clean cut lines, simplicity and composed feel, this beautiful tote seems to emanate a certain 'savoir faire', giving this versatile MK handbag the ability to impress in every situation.  Although we simply adore all the different shapes, sizes and styles in the Michael Kors handbag collection, we are finding ourselves wondering why everything can't be a simple as the Michael Kors Jet Set travel tote!?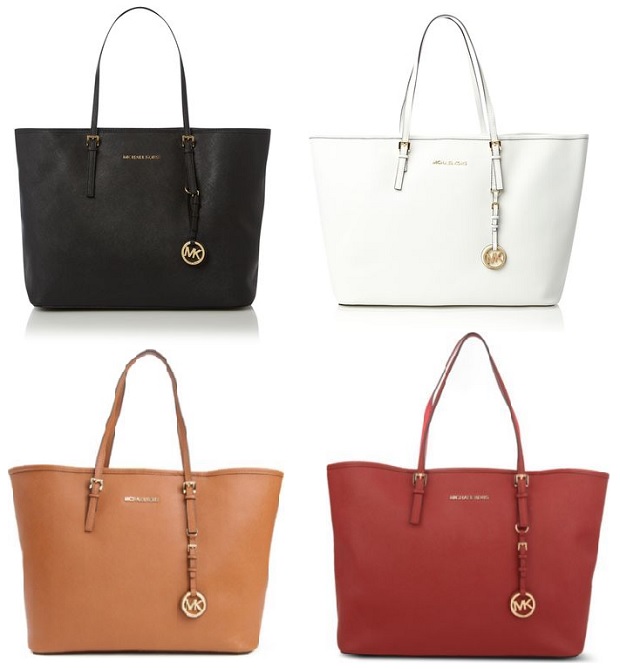 What are they made of?
Like the Michael Kors Selma tote, some Michael Kors Hamilton Tote,  the Michael Kors Jet Set travel tote is made from durable Italian Saffiano leather.  Some models feature an all-over pressed Michael Kors logo design, some have a perforated leather exterior and some are plain; however, all designs have classy gold hardware which includes petite strap buckles, the Michael Kors name in full and the recognisable circular MK charm logo.  Inside is a hanging zipped pocket, a slot pocket and a small lobster clasp closure.
Michael Kors Jet Set Tote is also made from a perforated leather which is sleek and cool. This bag is understated with an open top and roomy compartment.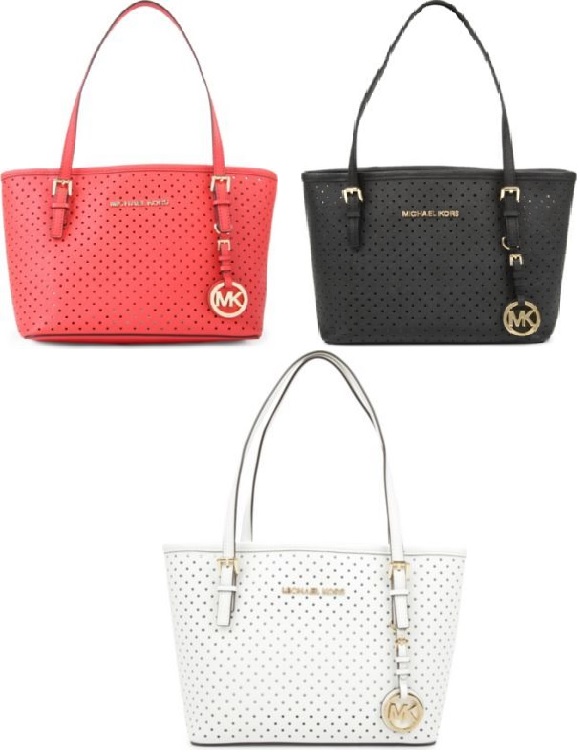 How big are they?
The medium sized MK Jet Set tote measures in at H28 x W42 xD15cm, which makes for a roomy, comfortable carry-all with a generous handle drop of 19cm.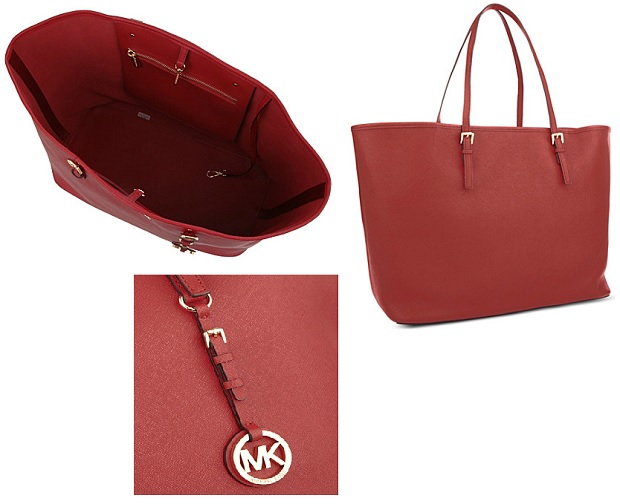 What colours are available?
The Jet Set collection spans a range of patterns and colours, including neutral black, white and tan along with brighter pinks, metallic and cherry.  The choice is vast and of course, it would not be a complete Michael Kors collection without some animal print thrown in for good measure.
Style tips
This bag, with all its finesse, will look great with palazzo pants, wedged sandals and a classic well-fitting vest top.  Perfect for Big Bag Lovers and Confident Classique personalities, this Michael Kors Jet Set tote lives up to its exclusive sounding name.
Shop Michael Kors handbags:
Shop Michael Kors Jet Set Medium Travel Tote
Read other Michael Kors bag reviews:
Post written by Claire Cobley
Comments
comments